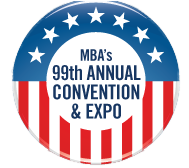 This year DocMagic and YOU could WIN BIG at the MBA convention.
We're making our visit to Chicago a whistle stop on our national campaign. We'll be shaking hands, kissing babies and working the crowd.
And this year we're giving away a trip to Washington, D.C.!
Every year DocMagic gives away thousands of magic rabbits to customers and charities. Every year's bunny has a different theme. With the upcoming election on everyone's minds, this year's " Presidential DOC" has thrown his hat in the ring and our Vote for DocMagic Campaign team will be in Chicago, election stumping at the convention and looking for your vote!
Come visit our booth to "Vote for DocMagic" and you'll be entered to win a 3 night/4 day trip for two (2) to Washington, D.C. that includes airfare, hotel, transportation, tour of the Capital and much more.
Visit us at booth #1100! Find out about our DocMagic Election Platform and Vote for DocMagic for your opportunity to WIN BIG in 2012!