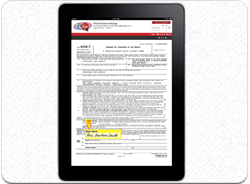 Now that IRS guidelines allow the 4506-T form to be signed electronically, it's never been quicker or easier to get your borrower's income verified.
DocMagic's eSign technology delivers fully compliant electronic signatures for the 4506-T. Bundled with the initial disclosure package, or served-up separately, the eSigned 4506-T is just one more way that DocMagic's technology solutions and compliance expertise can increase your efficiency, putting you on the leading edge of the ever-changing lending industry.
DocMagic handles the details of compliance with state and federal law ensuring that 4506-T forms meet all current regulations. DocMagic's eSigned 4506-T includes an attached certificate that complies with all IRS requirements from initial authentication and consent, to providing a tamper-proof seal.