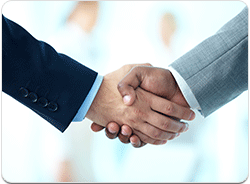 Press Release:
Second acquisition this quarter adds industry-leading talent proven to deliver exceptional service
TORRANCE, Calif., Dec. 9, 2014-- DocMagic, Inc., the premier provider of fully-compliant loan document preparation, compliance, eSign and eDelivery solutions, announced today that it has acquired the assets of Doc-Tech Corporation, dba Document Express, a boutique document preparation company known for its exceptional customer service. The acquisition comes on the heels of DocMagic completing the purchase of award-winning eSignSystems in October.
As part of the acquisition, DocMagic will bring on the entire team of Doc-Tech Corp, including co-founder and Doc-Tech president Lori Johnson, and Doc-Tech EVP of sales, Michael Chaney. In addition, DocMagic gains DocTech's customer base of lenders, which it will continue to service and support using DocTech's service-oriented staff located at its corporate office in Palatine, Illinois.