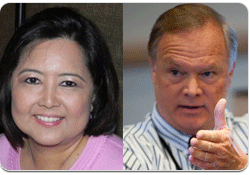 DocMagic Inc. has announced that Melanie Feliciano, the firm's chief compliance officer, has been appointed to the board of directors of the Electronic Signature & Records Association (ESRA). She was elected during the organization's E-Sigantures 2013 Conference in New York last month.
"Melanie will make an excellent addition to the board of this organization," said Dominic Iannitti, CEO of DocMagic. "Her legal background and long experience in the industry has made her a great advisor and educator to DocMagic's customers. Now, she can share her experience with ESRA members. It is our hope that her service will lead to greater adoption of eSigned documents in the mortgage industry."
ESRA is an important initiative focusing on e-signatures and electronic records. Its original founding members included Genworth Financial and Wells Fargo Home Mortgage. Education is the primary mission of ESRA. The association is a centralized educational resource for its members and the public with respect to the legal, regulatory and operational issues in relation to the use of electronic signatures and records.