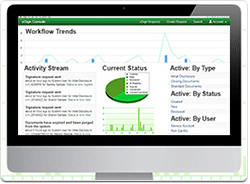 DocMagic's eSign Console is getting new look and feel!
This exciting enhancement includes a new intuitive Performance Dashboard that gives you a snapshot of recent eSignature activity and unveils new tools and features to help you find what you need faster, stay organized and keep track of work in progress – all in one place!
Redesigned with user feedback in mind, DocMagic's eSign Console has a bright and contemporary look and includes robust new functionality designed to minimize keystrokes and improve access to the information and services you need. We've enhanced search capabilities and included upgrades to the features you already know and love. The eSign Console accelerates productivity, giving you up-to-the-moment access to the eSignature process, document management features, critical RESPA status, and much, much more!