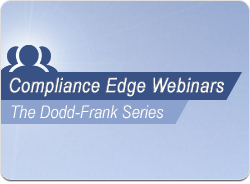 We're helping you get ready for Dodd-Frank implementation!
Join us Tuesday, August 13th for:
High-Cost (HOEPA) Mortgage Rule
The webinar will focus on the expanded definition of "points and fees" and how to avoid making a high-cost loan under the new High-Cost Mortgage (HOEPA) Rule. You'll learn what makes a mortgage a high-cost mortgage - as well as specifics about disclosures, limitations and prohibited provisions.
We will also provide the following tools to help you with a logical plan for timely implementation and compliance:
- A recording of the full content of the webinar
- The complete presentation deck
- Handouts and handy implementation guides
Featuring speakers with legal and compliance expertise, the webinar will offer focused perspectives and hands-on experience with Dodd-Frank compliance.