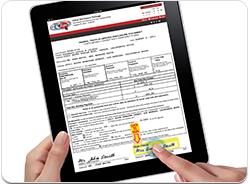 MortgageOrb Interview with Tim Anderson, Director of eServices, DocMagic, Inc.
For many years, there was talk about migrating mortgage banking from a paper-driven endeavor to an electronic environment. And while no one is ready to assign paper to a display in the Smithsonian, the progress being made in e-mortgages and e-signatures is substantial. To discuss this trend, MortgageOrb spoke with Tim Anderson, director of e-services at Torrance, Calif.-based DocMagic.
Q: Why has it taken so long for the e-mortgage environment to be embraced by both the industry and the federal government?
Anderson: Primarily, because we're operating in a business that is driven by investor demands. Consequently, innovation and change has always been a painfully slow process in this industry. It seems that every time we begin to get some traction on a certain issue, something else happens in the marketplace that preoccupies the participants.