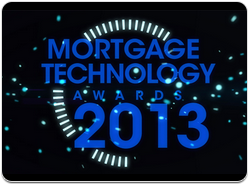 The votes have been counted and Mortgage Technology is pleased to announce the finalists for the 2013 Lenders' Choice Mortgage Technology Award.
The award is one of 12 that will be presented during the 14th Annual Mortgage Technology Awards Ceremony on Oct. 27, and it's the only category of the MT Awards where the finalists and winner are selected by mortgage banking executives.
The Lenders' Choice Award commends the technology provider that offers the best customer service, value proposition and overall user experience, as voted on by the companies named to the 2013 Top Tech-Savvy Lenders and Servicers list.
Mortgage lending and servicing executives were asked to rank their top three mortgage technology providers based on their combined evaluation of the three metrics. MT's editorial judges panel then assigns point values to each vote — first place votes are worth three points, second place votes are worth two points, and third place votes are worth one point. The judges then compile the point totals derived from all the votes to select the finalists.