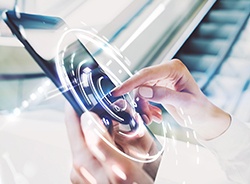 App opens a pivotal avenue for lenders to capture more market share
With every passing year, consumers rely even more on portable mobile devices for their personal and business activities — this includes obtaining a mortgage. Millennials in particular expect to handle every step of the process on a phone or tablet, from starting the origination process to checking status, eSigning documents and completing the closing process. DocMagic's BorrowerMobile app satisfies every aspect of this expectation.
Because BorrowerMobile integrates with DocMagic's single-source, comprehensive Total eClose solution, it revolutionizes the lender's eClosing process into a seamless, sophisticated and easy digital mortgage experience for not only the borrower, but also the lender and closing agents. Lenders who use BorrowerMobile gain efficiences, exceed borrower expectations for collaboration and communication and ultimately open a pivotal avenue for capturing more market share.