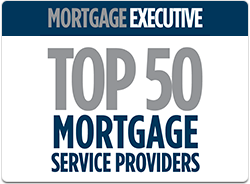 Press Release:
A new take on the industry's leading firms puts DocMagic at the top this year.
TORRANCE, Calif.—DocMagic, Inc., the leading provider of fully-compliant loan document preparation, compliance, eSign and eDelivery solutions for the mortgage industry, announced today that the company has been listed among the Top 50 Mortgage Service Providers in America by Mortgage Executive magazine. The listing was published in the 4Q 2013 issue.
"Being listed among the industry's best service providers is important to us because it demonstrates that we are driven to innovate while others wait," said Dominic Iannitti, CEO of DocMagic. We are proud to be included on this list and thank the editors for the work they put into developing it."
For more than 25 years, DocMagic has led the industry in pursuit of a single mission: the electronic, fully compliant, paperless mortgage. The leading competitor in its space, the company is committed to customer service and focused on making custom forms easy and delivering a robust and compliant document preparation process.