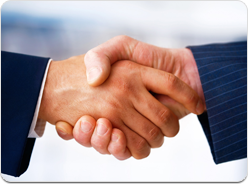 Press Release
New executive brings years of experience to the team and bright ideas for new solutions
DocMagic, Inc., the leading provider of fully-compliant loan document preparation, compliance and eDelivery solutions for the mortgage industry, announced today that Brian Yoder has joined the company as Director of Software Development. He brings more than 35 years of hands-on software development expertise, experience in engineering management and involvement in building successful teams. In his new role, Yoder will report to Michael Morford, DocMagic's Director of Product Development.
"Brian is just the person we need in this position and I'm excited about the new development he will manage for DocMagic," said Dominic Iannitti, CEO of DocMagic. "Innovation will be the key to continued success for our company and our clients. It takes experienced leaders to nurture a culture that can foster that kind of continuous innovation. We've built it here and Brian will make it even stronger."