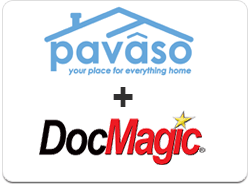 Press Release:
DocMagic participates in offering industry platform to support paperless lending
TORRANCE, Calif.-August 21, 2014-DocMagic, Inc., the leading provider of fully-compliant loan document preparation, compliance, eSign and eDelivery solutions for the mortgage industry, announced today that its strategic alliance with Pavaso will be expanded to allow the two firms to serve Franklin First Financial, Melville, New York, in the Consumer Financial Protection Bureau's eClosing pilot program.
"Lenders are now ready for a completely paperless loan closing process," said Dominic Iannitti, President and CEO of DocMagic. "Digital Close from Pavaso is designed to be a neutral technology platform that seamlessly integrates with other systems. That, along with DocMagic's eSign, eVault and eDelivery offerings, provides a fully supported, shrink-wrapped solution for anyone to do an eClosing. This partnership will show the industry and the CFPB that any lender can make the closing process better for consumers through the use of a completely electronic process without incurring the time and cost of creating or maintaining their own systems."