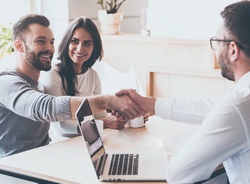 This fall, a Massachusetts lender closed on a fully paperless mortgage. The work that led to this rare achievement captures the difficulties originators still face in digitizing the loan process.
Radius Financial Group in Norwell electronically closed six loans beginning in October. The process was created in partnership with the tech vendor DocMagic, the MERS loan registry, Fannie Mae and Santander Bank.
Electronic closings and e-notes have been kicking around for a long time. Fannie Mae and Freddie Mac have purchased e-mortgages since the early 2000s. But they remain rare, partly because there are few warehouse lenders that can handle these transactions. Rarer still are completely paperless loan processes that combine an electronic closing with an electronically signed promissory note and deed of trust.