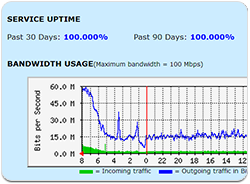 Press Release:
Mission critical service provider sets nearly impossible standard for service and achieves it

DocMagic, Inc., the leading provider of fully-compliant loan document preparation, compliance and eDelivery solutions for the mortgage industry, announced today that the company has maintained a perfect 100% uptime record for the past 120 days. DocMagic provides system status information on its website in real time. Over the past 12 months, DocMagic has maintained an unparalleled 99.989% uptime record. That period of time includes the company's move to their new location and switch-over to the new state-of- the-art technology center resulting in the new 100% uptime record.
"Some service providers and IT executives will say that 100% uptime is an impossible standard," said Dominic Iannitti, CEO of DocMagic. "I can assure you that it is possible and meeting this standard involves investment in infrastructure, superior staff training, constant monitoring and an unwavering commitment to the task."