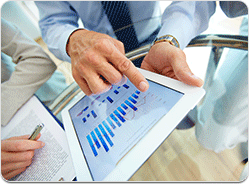 Press Release:
First FHA loan closed electronically, all but the note generated and signed electronically
TORRANCE, Calif.—March 17, 2014—DocMagic, Inc., the leading provider of fully-compliant loan document preparation, compliance, eSign and eDelivery solutions for the mortgage industry, announced today that its eSign compliant loan documents were chosen by Stewart Title® and Mountain America Credit Union to complete the industry's first ever eClosing of an FHA loan, in conjunction with Stewart's eClosingRoom®. DocMagic is the exclusive licensee of patent rights that enable its eSign technology.
FHA's recent announcement supports the ability to eSign all documents with the exception of the note. The announcement states that the agency will begin accepting electronically signed notes by the end of the year.
"eSign has never just been about the upfront disclosures," said Tim Anderson, director of eServices for DocMagic. "That's where we started and we've done that for a long time now. Our ability to use this technology to help lenders realize a fully paperless mortgage is the real story here. There really is no excuse now not to provide this service to borrowers, who have been demanding it for some time."