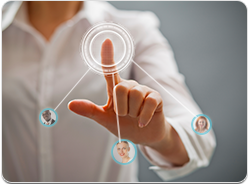 Press Release:
New solution brings lenders and settlement providers together inside a secure collaborative portal to view and exchange fee data prior to closing
TORRANCE, Calif., April 23, 2015 -- DocMagic, Inc., the premier provider of fully-compliant loan document preparation, compliance, eSign and eDelivery solutions, announced that it will launch a Collaborative Closing Platform for the mortgage industry. The solution is comprised of a secure, seamless and dynamic web-based portal that efficiently and expeditiously helps lenders comply with the TILA-RESPA Integrated Disclosure (TRID) rule that becomes effective on August 1.
DocMagic's Collaborative Closing Platform enables streamlined, real-time exchange of information between lenders, settlement agents and their associates via a secure web portal designed to electronically access, edit, validate and approve both data and documents. As a result, the coordination of all closing costs and audits of critical disclosure details are addressed prior to closing and in full compliance with TRID.