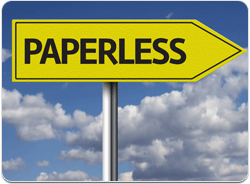 Press Release:
They did it with an FHA hybrid eClosing earlier this year. This time, they tackle a VA loan.

TORRANCE, Calif.-September 2, 2014- DocMagic, Inc., the leading provider of fully-compliant loan document preparation, compliance, eSign and eDelivery solutions for the mortgage industry, is proud to announce that the firm has partnered again with Mountain America Credit Union to provide a paperless loan closing, this time for a loan insured by the Veteran's Administration. To the company's knowledge, this is one of the first VA loans that have been closed electronically since the VA made the announcement that it would begin accepting eSigned loan documents late last year.
"Mountain America Credit Union is committed to serving the men and women of the armed forces -- both those currently serving and our veterans -- by offering VA loans in a paperless environment," said Amy Moser, Vice President and Mortgage Services Manager for the Utah-based credit union. "Until now, few institutions could serve our military personnel effectively, especially those serving overseas. This loan closing proves that we can accommodate the needs of our armed forces personnel and veterans no matter where in the world they may be."