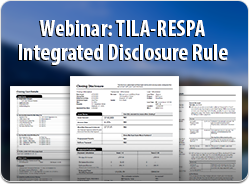 Join DocMagic's Compliance Edge™ for a FREE Webinar!
TRID: The Basics
This webinar is the first in our series focused on the TILA-RESPA Integrated Disclosure (TRID) Rule. Our goal is to help you with answers to the compliance questions you'll be asking as you prepare for TRID reform on August 1, 2015.
DocMagic's Chief Compliance Officer, Gavin T. Ales, will clarify the fundamental requirements surrounding the new regulations.
Build your fundamental knowledge:
■ Loans which are covered by the TRID Rule
■ New definitions explained
■ The Loan Estimate/Closing Disclosure in detail
■ Timing & tolerance requirements