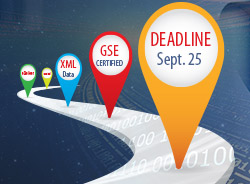 Press Release:
Company's dual certifications enable lenders to fulfill GSEs' recommendations of advanced preparation and testing for both 2017 and 2018 UCD delivery deadlines
TORRANCE, Calif., June 21, 2017 (SEND2PRESS NEWSWIRE) — DocMagic, Inc., the mortgage industry's leading provider of document production, automated compliance and comprehensive eMortgage services, announced that its technologies are now capable of supporting both phases of the upcoming UCD (Uniform Closing Dataset) requirement.
The company's technology solutions, which have been certified by Fannie Mae and Freddie Mac for both phases of the UCD file delivery mandate, enable lenders to start immediate testing of full UCD delivery – well in advance of the phase one 2017 deadline and the phase two 2018 deadline – as has been recommended by both GSEs.
Read More...