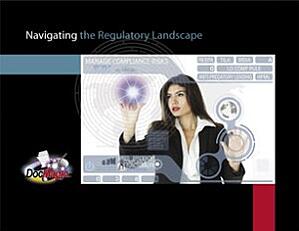 "In this marketplace, a commitment to mortgage lending is a commitment to compliance."
As a mortgage lending professional, your job is to make loans to qualified borrowers. Are compliance concerns cutting into your productivity?
DocMagic's mission is to keep you in compliance while carefully covering your individual closing needs. You can rest easy knowing you are in compliance with all State and Federal regulations.Compliance is monitored by in-house legal counsel, compliance professionals and investor specialists delivering tools and technology that keep you worry-free throughout the loan-origination process. Built into our famous DocMagic Audit System are fully automated predatory lending tests, HPML audits, MDIA audits and hundreds of other compliance and data validation audits.
Using DocMagic from start to finish ensures your loan is in compliance and can easily be sold in the secondary market. That is why:
Each month, over 40,000 mortgage lending professionals rely on us for compliance information.
80% of loans purchased by the top 25 Investors are produced by DocMagic.
DocMagic produces 1.5 million mortgage documents; each month.
To learn more about our compliance services, Click here to access DocMagic's FREE eBook "Navigating the Regulatory Landscape."
In it, you will see how we handle complex regulatory and compliance issues. The eBook describes how DocMagic is preparing for upcoming regulatory changes imposed as the result of the Dodd-Frank Act, and describes audits implemented to comply with RESPA 2010. This is including but not limited to the Zero Tolerance and 10% Tolerance Thresholds. We've also provided an article describing the update to those audits based on the RESPA Technical Corrections and Clarifying Amendments (*amendments") that were effective on August 10, 2011 and an article describing alternate programming subsequently implemented to the HUD-1 to accommodate an alternate interpretation of the amendments.
After reviewing the DocMagic eBook, we feel confident you will agree that DocMagic can be your trusted, reliable partner in compliant document production.
Thank you,
Your DocMagic Team