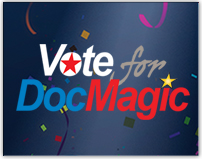 Press Release: The response has been high for the company's "Vote for DocMagic" online sweepstakes.
DocMagic, Inc., a leading provider of fully-compliant loan document preparation and delivery solutions for the mortgage industry, announced today that hundreds of industry Facebook users have visited the company's Facebook page at facebook.com/docmagicinc, voted for DocMagic's mascot for President and been automatically registered to win an expense-paid trip to Washington, D.C. The company announced the contest October 1 as part of its effort to use gamification strategies to build up its online following, which the company says is working.
"The contest has already been a huge win for DocMagic," said Dominic Iannitti, CEO of DocMagic. "Not only are people from all over our industry registering for a chance to win this great vacation to our nation's capital, but they are also interacting with us through our Facebook page, in higher numbers than anticipated."
People love games, which is why gamification strategies have now been employed by companies in nearly every industry, including government services. But beyond that, Iannitti says that this experience has shown that his customers and others in the industry love DocMagic's use of the rabbit mascot as well as the company's staff and services, as evidenced by the conversations taking place on DocMagic's Facebook page. Every year DocMagic sends out thousands of stuffed magic rabbits to their customers. This year an advertising campaign announcing the Vote for DocMagic campaign coincided with the delivery of the presidential "Doc" bunnies. The first 200 people who "Vote for DocMagic" receive the presidential bunnies, which have proven to be very popular.
The DocMagic Vote for DocMagic Sweepstakes is restricted to mortgage lenders, mortgage lending professionals and others from the mortgage lending industry who are legal residents of the United States and the District of Columbia (excluding residents of New York, Florida, Rhode Island and Puerto Rico), and who are 21 years or older at the time of entry. Players can only enter once. The Grand Prize is a trip for two to Washington D.C. for 4 days and 3 nights, including airfare, hotel, tour of the capitol and more!
The voting booth closes and no additional entries for the contest will be accepted after December 31, 2012. DocMagic will notify the winner within the first two weeks of January, 2013. The contest is subject to Official Rules accessible via the company's Facebook page at http://www.facebook.com/docmagicinc.