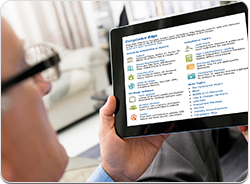 On April 2, DocMagic's comprehensive compliance resource website will have a new name and whole new look! We're proud to introduce our updated and improved compliance website: Compliance Edge.
Redesigned with you in mind, Compliance Edge has a new interface, design, and navigation with instant access to the resources, tools, and topics you've come to rely on. New search capabilities allow you to quickly utilize our organized and actionable compliance information, while brand new pages devoted to current topics keep you informed and on top of compliance changes as they happen.
The Dodd-Frank Act Resources Page dedicates tools and resources to the latest Dodd-Frank Act regulations, including up-to-date financial and regulatory guidance, publications and related industry announcements.
DocMagic is your compliance partner and we're proud to continually deliver "The Best Document Preparation, Delivery and Compliance Solutions Available, Anywhere."