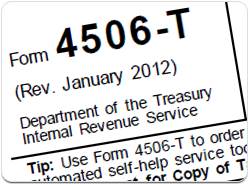 Press Release
DocMagic, Inc., the leading provider of fully-compliant loan document preparation, compliance and eDelivery solutions for the mortgage industry, announces an entirely automated service for income verification. DocMagic's 4506-T service provides a quick and complete service, automatically submitting borrowers' eSigned forms to the Ives vender of their choice for immediate processing by the IRS.
DocMagic's automatic income verification process accelerates workflow so that critical data, typically entered manually on the IRS website, is handled instantly in one streamlined solution. Bundled with the initial disclosure package, or served-up separately, the eSigned 4506-T service saves time, increases efficiency, and protects document integrity.
DocMagic's eSign process is simple. Borrowers receive an email invitation to sign the 4506-T, the borrowers electronically sign their documents and the eSigned 4506-T is processed instantly and delivered to the IRS automatically with a tamper-evident digital seal and a fully compliant eSign Certificate. DocMagic's 4506-T eSign Certificate complies with all IRS requirements from initial authentication to audit log and includes loan details, signature completion information, and a record of the entire electronic signing ceremony.
DocMagic handles all the details of compliance with federal law ensuring that forms meet all current regulations. DocMagic's eSign technology delivers the signed 4506-T in compliance with the standards and requirements of the federal Electronic Signatures in Global and National Commerce Act ("ESIGN"). Since 2010, DocMagic has processed over 23 million eSign requests.
The automated 4506-T service is just one more way that DocMagic's technology improves the borrower's experience, increases efficiency for the lender, and ensures compliance and data integrity along the way. DocMagic's technology solutions and compliance expertise keep you on the leading edge of the mortgage lending industry.
About DocMagic
DocMagic, Inc. is the leading provider of fully-compliant loan document preparation, compliance and eDelivery solutions for the mortgage industry. Founded in 1988 and headquartered in Torrance, Calif., DocMagic, Inc. develops software, processes and web-based systems for the production and delivery of compliant loan document packages. DocMagic guarantees and warrants that all agency forms are up to date and in compliance with GSE requirements. The company's compliance experts and in-house legal staff constantly monitor legal and regulatory changes at both the federal and state levels to ensure accuracy. For more information on DocMagic, visit www.docmagic.com.