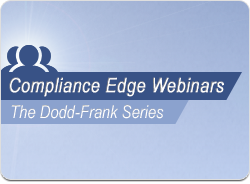 Does Dodd-Frank compliance have you lost? Join us May 15th for:
The Implementation Road Map
You need more than just another "overview" of the current compliance landscape. You need a realistic plan to get you through organization, preparation and implementation.
Compliance Edge's Implementation Roadmap : is a FREE webinar explaining the Dodd-Frank Rules, highlighting a step-by-step plan for implementation and offering organized compliance timelines.
The webinar will feature speakers with compliance and legal expertise from different segments of the lending industry, including a major lender and loan origination system provider. We will present a comprehensive 360 degree approach to understanding and implementing the Dodd-Frank Rules.
We're going to set you up with practical tools to help you prepare!
Register Now
Presenters:


Melanie Felicano
Chief Legal Officer
DocMagic Inc.
Melanie joined DocMagic, Inc., in October, 2004, as Assistant General Counsel and became DocMagic's Chief Legal Officer in June, 2010. Melanie manages the Legal and Compliance Department; serves as Editor-in-Chief of DocMagic's monthly, electronic compliance newsletter, The Compliance Wizard; oversees, negotiates and prepares various agreements involving DocMagic's customers and strategic partners; manages DocMagic's risk; and handles legal matters relating to DocMagic's business operations. Melanie also supports DocMagic's Chief Compliance Officer, Laurie Spira, and the rest of the Compliance Team with respect to DocMagic's compliance products and services.
Laurie Spira
Chief Compliance Officer
DocMagic, Inc.
As DocMagic's Chief Compliance Officer, Laurie has hands-on involvement in the development, implementation and maintenance of DocMagic's compliance products and services. Her background includes leadership roles in Policies and Procedures, Risk Management, Project Management, and Compliance for retail, wholesale and correspondent lending and loan servicing. Since joining DocMagic in 2010, Laurie's primary focus has been the management of DocMagic's library of mortgage loan documents, which are used by lenders and brokers in all 50 states and the District of Columbia.
Guest Speakers:

Steve Rattray
Compliance Manager
Wells Fargo Mortgage
Steve Rattray is currently a Compliance Manager with Wells Fargo Home Mortgage. He joined Wells Fargo in 2001 and has held roles supporting the Wholesale and Correspondent channels. Since 2004 Steve's focus with the company has been regulatory compliance. In his current role he is responsible for regulatory and operation risk for the Correspondent and Joint Ventures divisions.Steve graduated from Northern Michigan University with a degree in economics and was a financial advisor with Ameriprise prior to joining Wells Fargo in 2001.
Sue Baker


Senior Vice President and Chief Product Officer,
D+H Mortgagebot
With more than 30 years in the industry, Sue has a broad range of mortgage and technology experience. Since helping found Mortgagebot in 1997, she has led the product design and development teams in creating cost-effective solutions that help mortgage lenders grow, compete and optimize their operations. These innovative products include Mortgagebot Enterprise™—the cloud-computing loan origination platform that automates the lending process from point of sale through closing and beyond.
About the Compliance Edge's Dodd Frank Webinar Series
The Compliance Edge's Dodd Frank Webinar Series was designed to give you a jump start on implementation of the latest Dodd-Frank Rules. Learn about what other industry professionals are doing to plan for and apply the new rules well in advance of their effective date.
- The Implementation Road Map (FREE) | May 15th
- Ability-to-Repay Rule | TBD
- LO Compensation | TBD
- HOEPA | TBD
DocMagic is your compliance partner and we're proud to continually deliver the best document preparation, delivery and compliance solutions available, anywhere.