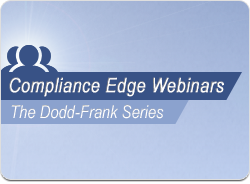 More than just another "Dodd-Frank rehash", this webinar includes how to's and guidance for developing a practical, step-by-step plan for understanding and preparing for the LO Compensation Rule. You'll learn what is required or suggested to evidence compliance with this rule resulting in minimal impact to your business.
We will also provide the following tools to help you with a logical plan for timely implementation and compliance:
- A recording of the full content of the webinar
- The complete presentation deck
- Handouts and handy implementation guides
Featuring speakers with compliance and legal expertise, the webinar will offer focused perspectives and hands-on experience with Dodd-Frank compliance.
Register Now
Presenters:


Melanie Felicano
Chief Legal Officer
DocMagic Inc.
Melanie joined DocMagic, Inc., in October, 2004, as Assistant General Counsel and became DocMagic's Chief Legal Officer in June, 2010. Melanie manages the Legal and Compliance Department; serves as Editor-in-Chief of DocMagic's monthly, electronic compliance newsletter, The Compliance Wizard; oversees, negotiates and prepares various agreements involving DocMagic's customers and strategic partners; manages DocMagic's risk; and handles legal matters relating to DocMagic's business operations. Melanie also supports DocMagic's Chief Compliance Officer, Laurie Spira, and the rest of the Compliance Team with respect to DocMagic's compliance products and services.
Laurie Spira
Chief Compliance Officer
DocMagic, Inc.
As DocMagic's Chief Compliance Officer, Laurie has hands-on involvement in the development, implementation and maintenance of DocMagic's compliance products and services. Her background includes leadership roles in Policies and Procedures, Risk Management, Project Management, and Compliance for retail, wholesale and correspondent lending and loan servicing. Since joining DocMagic in 2010, Laurie's primary focus has been the management of DocMagic's library of mortgage loan documents, which are used by lenders and brokers in all 50 states and the District of Columbia.
Featured Speakers:


Howard A. Lax
Attorney
Bodman PLC
Mr. Lax, a Member of Bodman PLC, concentrates his practice in financial institutions consumer compliance and regulatory affairs and real property law. Mr. Lax has written numerous articles on residential mortgage lending issues. Mr. Lax participates in numerous seminars for the American Bankers Association, AllRegs, CMPS Institute, MMLA, the Michigan Bar, and various title insurance and real estate trade groups. Mr. Lax's articles are found in RESPA News, The Dodd-Frank Update, and Docmagic's Compliance Wizard. Mr. Lax is rated AV by Martindale Hubbell, and he was recognized as a "Michigan Super Lawyer" and "Top Lawyer." Mr. Lax is an Adjunct Professor at Wayne State University Law School teaching Banking Law. Read Full Bio

Melissa K. Bridges
Attorney
Bodman PLC
Ms. Bridges is a frequent speaker on financial institution regulatory topics and served as the moderator of the Michigan Bankers Association's Compliance Forum. She has also presented on topics including the SAFE Act, the Bank Secrecy Act, federal and state garnishment rules, the Fair Credit Reporting Act, Truth in Lending credit card rules, mortgage compensation rules, and the implementation of Dodd-Frank Act. Ms. Bridges also regularly contributes articles on regulatory changes to both state and federal law to the Financial Institutions Compliance Cooperative newsletter. Before joining Bodman, Ms. Bridges worked as a regulatory compliance consultant in charge of conducting Bank Secrecy Act and Regulatory Compliance reviews for financial institutions in Michigan, Florida, and California. Read Full Bio
About the Compliance Edge's Dodd-Frank Webinar Series
The webinars in the Dodd-Frank Series are designed to reinforce knowledge of the Dodd-Frank rules and offer practical information and tools for the implementation of those rules.
- LO Compensation | Tuesday, July 16th
- High-Cost Mortgage Rule | August 2013
For powerful tools and resources to help you stay on top of compliance developments and changes as they happen visit the Compliance Edge website.