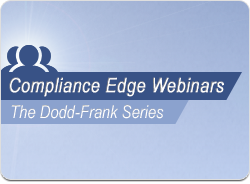 We're helping you get ready for Dodd-Frank implementation!
Join us Tuesday, August 13th for:
High-Cost (HOEPA) Mortgage Rule
The webinar will focus on the expanded definition of "points and fees" and how to avoid making a high-cost loan under the new High-Cost Mortgage (HOEPA) Rule. You'll learn what makes a mortgage a high-cost mortgage - as well as specifics about disclosures, limitations and prohibited provisions.
We will also provide the following tools to help you with a logical plan for timely implementation and compliance:
- A recording of the full content of the webinar
- The complete presentation deck
- Handouts and handy implementation guides
Featuring speakers with legal and compliance expertise, the webinar will offer focused perspectives and hands-on experience with Dodd-Frank compliance.
Presenters:


Melanie Felicano
Chief Legal Officer
DocMagic Inc.
Melanie joined DocMagic, Inc., in October, 2004, as Assistant General Counsel and became DocMagic's Chief Legal Officer in June, 2010. Melanie manages the Legal and Compliance Department; serves as Editor-in-Chief of DocMagic's monthly, electronic compliance newsletter, The Compliance Wizard; oversees, negotiates and prepares various agreements involving DocMagic's customers and strategic partners; manages DocMagic's risk; and handles legal matters relating to DocMagic's business operations. Melanie also supports DocMagic's Chief Compliance Officer, Laurie Spira, and the rest of the Compliance Team with respect to DocMagic's compliance products and services.
Laurie Spira
Chief Compliance Officer
DocMagic, Inc.
As DocMagic's Chief Compliance Officer, Laurie has hands-on involvement in the development, implementation and maintenance of DocMagic's compliance products and services. Her background includes leadership roles in Policies and Procedures, Risk Management, Project Management, and Compliance for retail, wholesale and correspondent lending and loan servicing. Since joining DocMagic in 2010, Laurie's primary focus has been the management of DocMagic's library of mortgage loan documents, which are used by lenders and brokers in all 50 states and the District of Columbia.
Featured Speaker:


Loretta Salzano
Attorney
Franzen and Salzano, P.C.
Loretta Salzano manages the compliance practice for Franzén & Salzano, a firm she founded in 1996, after serving as in-house counsel to financial institutions. She is also a founder of ComplyShare, a mortgage quality control and compliance company. Loretta advises banks, mortgage lenders, real estate brokers, closing agents and attorneys on all aspects of compliance, including licensure, marketing, fees, disclosures, reporting, fair lending and compensation. Loretta serves as Legal Counsel to the MBA of Georgia and as Martindale-Hubbell's Financial Law Panelist for Ask a Lawyer. Loretta earned her B.A. with High Distinction from the University of Michigan and her J.D. from the University of Michigan Law School.
About the Compliance Edge's Dodd-Frank Webinar Series
The webinars in the Dodd-Frank Series are designed to reinforce knowledge of the Dodd-Frank rules and offer practical information and tools for the implementation of those rules.
For powerful tools and resources to help you stay on top of compliance developments and changes as they happen visit the Compliance Edge website.