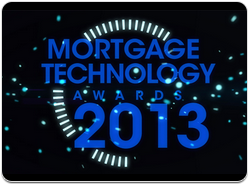 The votes have been counted and Mortgage Technology is pleased to announce the finalists for the 2013 Lenders' Choice Mortgage Technology Award.
The award is one of 12 that will be presented during the 14th Annual Mortgage Technology Awards Ceremony on Oct. 27, and it's the only category of the MT Awards where the finalists and winner are selected by mortgage banking executives.
The Lenders' Choice Award commends the technology provider that offers the best customer service, value proposition and overall user experience, as voted on by the companies named to the 2013 Top Tech-Savvy Lenders and Servicers list.
Mortgage lending and servicing executives were asked to rank their top three mortgage technology providers based on their combined evaluation of the three metrics. MT's editorial judges panel then assigns point values to each vote — first place votes are worth three points, second place votes are worth two points, and third place votes are worth one point. The judges then compile the point totals derived from all the votes to select the finalists.
In alphabetical order, the technology companies that received the three highest point totals and are the finalists for this year's Lenders' Choice Award are:
Document Systems Inc. (DocMagic)
Ellie Mae Inc.
International Document Services
Torrance, Calif.-based DSI is best known for its flagship document preparation platform, DocMagic, which it supplements with electronic signature, mobile and compliance technologies.
Pleasanton, Calif.-based Ellie Mae develops the Encompass loan origination system and uses its Ellie Mae Network to integrate with ancillary third-party underwriting services.
Draper, Utah-based IDS provides document preparation technology with its idsDoc system and augments the platform with automated compliance, auditing and due diligence tools.
The finalist that received the most points will be announced the winner of the Lenders' Choice Award at the 14th Annual Mortgage Technology Awards Ceremony on Oct. 27 at the Renaissance Washington, D.C. Downtown Hotel.
The finalists for the 11 other MT Awards categories were determined by a judges panel comprised of Mortgage Technology's editorial staff and announced in August. The judges also select the winners for those categories, which will be revealed at the MT Awards Ceremony and published in a special edition of the magazine.
The Lenders' Choice Award was added to the MT Awards in 2012 to give the industry's most innovative technology users a voice in recognizing outstanding vendors. The 2012 Lenders' Choice Award finalists were IDS, QuestSoft and Xerox Mortgage Services, with IDS taking home last year's prize.