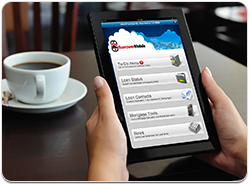 Join us Tuesday, February 11th, for a FREE DocMagic webinar:
Mobilizing the Borrower's Experience
At DocMagic, we think it's critical for borrowers and lenders to communicate. That's why we're so excited to introduce BorrowerMobile, an application designed for your borrower's tablet or smart phone!
Borrowers can use their mobile devices to easily clear loan conditions, review, share and eSign documents, check loan status in real-time, and schedule important events, like appraisals, directly to their calendar… all with the touch of a finger.
■ Close more loans… and close them faster
■ Provides real-time loan status
■ Integrates with any loan origination system (LOS)
■ Secure and encrypted document delivery
■ Fully-integrated eSign technology
Space is limited. Reserve your seat now by clicking this link.
Presenter


Ron Carrillo
Training & Education Supervisor, DocMagic, Inc.
Ron Carrillo joined DocMagic in 2002. As Training & Education Supervisor, Ron is responsible for training DocMagic's customers on our many products and services. Hosting a live weekly webinar as well as creating training videos and pod-casts, Ron keeps customers informed of current updates, new features and the latest product enhancements. Ron earned his teaching credential from the University of San Diego.