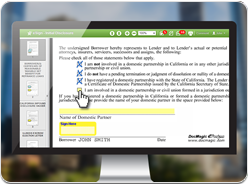 Easy for the Borrower...
Convenient and Compliant for you!
Coming February 1st, a new look and intuitive features make DocMagic's eSign platform better than ever – giving you a fast and compliant electronic document signing, management, and storage process! Just for borrowers, we focused on signer-friendly improvements designed to enhance the signing experience!
Our new PostFill feature allows you to include documents with open form fill cells. Borrowers can easily fill in data fields with information during the signing process.
Pop up guides with clear instructions and an Automated eSign Tour walk borrowers through the eSigning process step-by-step.

With enhanced control features, borrowers can navigate easily and zoom to view documents. The smarter Signing Status control bar helps borrowers stay on track.
■ Dynamic PostFill functionality
■ An automated eSign Tour shows borrowers every step
■ New instructions and pop-up guides
■ Enhanced control and navigation tools
■ Signing Status control bar keeps borrowers on task