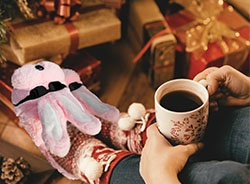 The holidays always offer an opportunity to reflect on the past year, to recall the moments and people that made this or that year such a success. First and foremost, all of us here at DocMagic wish to thank you for the loyalty and trust you, our clients,extended to us over this exciting year. 2016 has been an amazing year for this company and the industry as a whole. Allow me to highlight some of the year's milestones.We started theyear with a bang when we announced the rollout of Total eClose™ at DocMagic's "The eFuture is Now" bash at LA Live for the MBA's annual Tech Conference. A massive turnout of guests learned about our newest innovation and danced the night away in gifts of comfy bunny slippers… inspired by our mascot and spokesperson "Doc". The success of this occasion foreshadowed a banner year of growth in all areas of our business.
From the introduction of both the SmartCLOSE™ and Total eClose™ solutions, we have experienced record business growth, resulting in the need for some of the new faces you may have encountered at our headquarters. It has been a spectacular year for adding new clients and strategic partnerships, and to provide a heightened level of service quality, we've added an account management tier within the Customer Support Department. We launched our NEW Premium Reps and Warrants Program to great support. Our eVaulting service took off with several of the nation's largest financial institutions, and DocMagic's NEW investor eQC service began delivering automated data and compliance services to investors.
While our internal tech wizards were burning the midnight oil to develop these solutions for our clients, we were selected to be the lead participant in the State of North Carolina's eClosing Pilot, and DocMagic was named to the vendor technology advisory boards of both Fannie Mae and Freddie Mac. Most significantly, we executed many of the first paperless eClosings in the country and all participants worked hard to change the landscape of the industry by helping make the digital mortgage a reality.
We are so proud of our accomplishments and the employees that made it all possible. Year after year DocMagic invents and refines products and services that keep our clients compliant, successful and working smarter. Our commitment remains the same -- to provide the best loan document, automated compliance and eServices solutions available… anywhere.
We extend warm wishes for a joyous Holiday Season and look forward with optimism to what lies ahead in 2017.