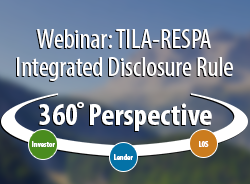 Join DocMagic on June 24th, 10AM PDT for a Compliance Edge™ Webinar!
TRID Implementation: A 360° Perspective
This webinar will offer multiple perspectives for TRID implementation from several distinct vantage points in the mortgage industry. We're excited to feature a unique lineup of special guest speakers providing insight into lender, investor, and LOS company perspectives.
The webinar will focus on TRID pain points, working with vendors, changing processes and policies, educating staff, internal testing, and operational risk.
We will also provide the following tools to help you with your TRID implementation effort:
A recording of the webinar
The complete presentation deck