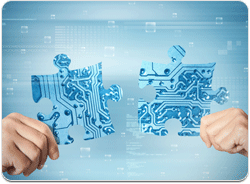 Press Release: Consortium lenders who use this LOS now have access to industry-leading doc prep and eDelivery
TORRANCE, Calif.—DocMagic, Inc., the leading provider of fully-compliant loan document preparation, compliance, eSign and eDelivery solutions for the mortgage industry, announced today that DocMagic is now available from within the Liquid Logics loan origination system (LOS) produced by bFocused. Liquid Logics is a cloud based LOS that is currently in use by a consortium of consumer direct lenders.
"We're very proud of this integration effort and what it will mean to users of the Liquid Logics LOS," said Steve Ribultan, Director of Business Development for DocMagic. "We're integrating everything: document packages, compliance, eSign, e-delivery, e-appraisal, BorrowerMobile, and perhaps most important the delivery of electronic documents to borrowers. It is a seamless integration that allows lenders to check compliance, generate document packages and deliver them to borrowers electronically from within their "system of record".