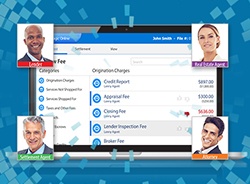 Press Release:
Most Feature Rich and Easy-to-Use TRID Solution in the Industry Hits a Home Run
TORRANCE, Calif., Aug. 13, 2015 -- DocMagic, Inc., the premier provider of fully-compliant loan document preparation, compliance, eSign and eDelivery solutions, announced that after extensive testing by lenders, settlement providers and other relevant parties, SmartCLOSE™ has been honed to perfection and been moved to a secure cloud-based production environment for its official release date of Aug. 15, 2015.
In June, over 250 lenders participated in the testing of DocMagic's new SmartCLOSE collaborative closing portal in order to provide key feedback to DocMagic for continued fine-tuning of the system. As a result of months of preparation and testing, lender and settlement provider feedback and fine tuning the technology, SmartCLOSE is now ready for production.
"The innovative enhancements that DocMagic has added to the portal makes SmartCLOSE the most feature rich and easy-to-use TRID solution in the industry," said Kevin Marconi, COO of United Fidelity Funding. "Even though the TRID deadline was pushed to October 3, DocMagic's early readiness today gives me the peace of mind I absolutely must have to know that I am TRID ready."