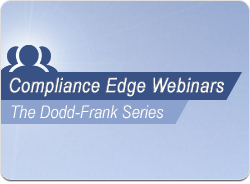 This Dodd-Frank webinar includes how to's and guidance for developing a practical, step-by-step plan for understanding and preparing for the Ability to Repay Rule/Qualified Mortgage Rule. You'll learn what documents are required or suggested to evidence compliance with these rules as well as various audits to enhance compliance.
- You'll learn how to determine Ability to Repay.
- You'll understand which transactions are covered by the Ability to Repay Rule.
- You'll learn ways to make a Qualified Mortgage fall under a "safe harbor" for compliance.
We will also provide useful tips and tools to help you develop a reasonable plan for implementation and compliance. Featuring speakers with compliance and legal expertise, the webinar will offer focused perspectives and hands-on experience with Dodd-Frank compliance.
Register Now