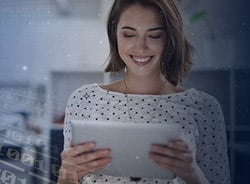 Join Tanya Brennan, DocMagic's eService Product Specialist, for a FREE educational webinar.
Learn what you need to know to prepare for the Uniform Closing Dataset (UCD) Requirement before the September 25, 2017 deadline. Our special guests Daniel Miller, Digital Alliance Manager & Sejal Patel, Financial Service Manager from the Single Family Digital Products division at Fannie Mae will be on hand to answer your questions about UCD.
We'll show you DocMagic's GSE-Verified solution — available NOW! Learn how to generate & deliver UCD files directly to Fannie Mae and/or Freddie Mac, satisfy the requirement to provide borrower data (and seller data, if available) in the UCD file format, create UCD files that include an embedded PDF of the Closing Disclosure, and how to integrate via DocMagic's Application Programming Interface (API).