DocMagic Blog
DocMagic Partners with Pavaso for eClosing Pilot
08/22/2014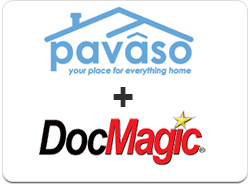 Press Release:
DocMagic participates in offering industry platform to support paperless lending
TORRANCE, Calif.-August 21, 2014-DocMagic, Inc., the leading provider of fully-compliant loan document preparation, compliance, eSign and eDelivery solutions for the mortgage industry, announced today that its strategic alliance with Pavaso will be expanded to allow the two firms to serve Franklin First Financial, Melville, New York, in the Consumer Financial Protection Bureau's eClosing pilot program.
"Lenders are now ready for a completely paperless loan closing process," said Dominic Iannitti, President and CEO of DocMagic. "Digital Close from Pavaso is designed to be a neutral technology platform that seamlessly integrates with other systems. That, along with DocMagic's eSign, eVault and eDelivery offerings, provides a fully supported, shrink-wrapped solution for anyone to do an eClosing. This partnership will show the industry and the CFPB that any lender can make the closing process better for consumers through the use of a completely electronic process without incurring the time and cost of creating or maintaining their own systems."
Pavaso and its Digital Close platform have been approved by the CFPB for participation in the eClosing pilot program.
"One of the prior issues with getting adoption for eClosing was providing the title and closing agents with a simple solution they could use to support their part of the closing process," said Tim Anderson, Director of eServices for DocMagic. "Pavaso has developed a system that can easily be implemented as a web service, allowing all participants involved in the transaction to sign up, log on and use it."
On its website, the CFPB says it expects its new pilot program to make it easier for borrowers to understand the closing process, and give borrowers more time to review the closing documents while providing them time to find and fix errors in documents prior to closing. All of these goals relate to complaints the agency has received from consumers.
"Paperless lending is the future for our industry and our Digital Close opens up a world of opportunity for stakeholders who want to better serve consumers and comply with new federal regulations," said Chris Ayoub, Pavaso's chief operating officer. "We can drive costs out of the equation for lenders and give borrowers the experience they've been seeking in the home finance process."
About Pavaso
Pavaso is an innovative technology company in the Real Estate Closing industry. We've created a powerful digital closing platform that takes the best of the web's collaboration and social features, integrations, analytics and enterprise scalability to bring everyone in the closing process together on the same page. For more information on how our platform and solution offerings can help you meet TILA-RESPA compliance, digitally transform your organization, and dramatically enhance the consumer experience, call us at 214.377.1795 or visit www.pavaso.com to request a demonstration of this revolutionary solution.
About DocMagic
DocMagic, Inc. is a leading provider of fully-compliant loan document preparation, compliance, eSign and eDelivery solutions for the mortgage industry. Founded in 1988 and headquartered in Torrance, Calif., DocMagic, Inc. develops software, mobile apps, processes and web-based systems for the production and delivery of compliant loan document packages. DocMagic guarantees and warrants that all agency forms are up to date and in compliance with GSE requirements. The company's compliance experts and in-house legal staff constantly monitor legal and regulatory changes at both the federal and state levels to ensure accuracy. For more information on DocMagic, visit www.docmagic.com.
One vendor. One platform. A complete solution.
Schedule a consultation or quick demo. Let us show you how we can help digitally transform your mortgage process.
Topics from this blog: Paperless eClosing CFPB eMortgage Partnerships
Back