DocMagic Blog
DocMagic Helps Mountain America Make History with VA eClosing
09/03/2014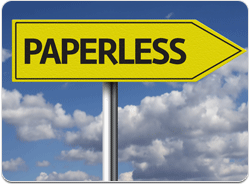 Press Release:
They did it with an FHA hybrid eClosing earlier this year. This time, they tackle a VA loan.

TORRANCE, Calif.-September 2, 2014- DocMagic, Inc., the leading provider of fully-compliant loan document preparation, compliance, eSign and eDelivery solutions for the mortgage industry, is proud to announce that the firm has partnered again with Mountain America Credit Union to provide a paperless loan closing, this time for a loan insured by the Veteran's Administration. To the company's knowledge, this is one of the first VA loans that have been closed electronically since the VA made the announcement that it would begin accepting eSigned loan documents late last year.
"Mountain America Credit Union is committed to serving the men and women of the armed forces -- both those currently serving and our veterans -- by offering VA loans in a paperless environment," said Amy Moser, Vice President and Mortgage Services Manager for the Utah-based credit union. "Until now, few institutions could serve our military personnel effectively, especially those serving overseas. This loan closing proves that we can accommodate the needs of our armed forces personnel and veterans no matter where in the world they may be."
This is a significant milestone in the evolution of eClosings. Despite a VA announcement last fall that electronic signatures are acceptable for use in conjunction with the VA Home Loan program, uncertainty about whether electronic signatures were valid regarding initial disclosure only, or both initial and final disclosure(s) constrained adoption of the program. The VA's announcement confirms that its eSignature program applies to all disclosures. Mountain America Credit Union used DocMagic's patented eSign functionality for the disclosures and the closing documents.
"The government agencies involved in the home finance industry have now all confirmed that eSign is an important technology for the future," said Tim Anderson, Director of eServices for DocMagic. "Mountain America Credit Union has led the way again, becoming among the first, if not the first, to go the distance with paperless origination of a VA loan. We congratulate Mountain America for their leadership and for making it easier to do business with them than their paper based competitors."
Among the many benefits of electronic transactions, beyond gains in efficiency, recordkeeping, and security, members of the military and their families, including active duty personnel serving around the globe, gain the convenience of closing VA loans remotely. This is a significant improvement over paper-based disclosures and documentation. DocMagic and Mountain America executives are pleased to be among the first to make this service available to the industry.
About DocMagic
DocMagic, Inc. is a leading provider of fully-compliant loan document preparation, compliance, eSign and eDelivery solutions for the mortgage industry. Founded in 1988 and headquartered in Torrance, Calif., DocMagic, Inc. develops software, mobile apps, processes and web-based systems for the production and delivery of compliant loan document packages. DocMagic guarantees and warrants that all agency forms are up to date and in compliance with GSE requirements. The company's compliance experts and in-house legal staff constantly monitor legal and regulatory changes at both the federal and state levels to ensure accuracy. For more information on DocMagic, visit www.docmagic.com.
One vendor. One platform. A complete solution.
Schedule a consultation or quick demo. Let us show you how we can help digitally transform your mortgage process.
Topics from this blog: Paperless eClosing eSign eMortgage Partnerships
Back