DocMagic Blog
DocMagic integrates with Liquid Logics LOS from bFocused
10/07/2014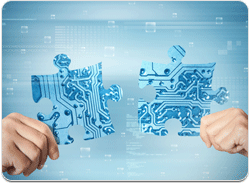 Press Release: Consortium lenders who use this LOS now have access to industry-leading doc prep and eDelivery
TORRANCE, Calif.—DocMagic, Inc., the leading provider of fully-compliant loan document preparation, compliance, eSign and eDelivery solutions for the mortgage industry, announced today that DocMagic is now available from within the Liquid Logics loan origination system (LOS) produced by bFocused. Liquid Logics is a cloud based LOS that is currently in use by a consortium of consumer direct lenders.
"We're very proud of this integration effort and what it will mean to users of the Liquid Logics LOS," said Steve Ribultan, Director of Business Development for DocMagic. "We're integrating everything: document packages, compliance, eSign, e-delivery, e-appraisal, BorrowerMobile, and perhaps most important the delivery of electronic documents to borrowers. It is a seamless integration that allows lenders to check compliance, generate document packages and deliver them to borrowers electronically from within their "system of record".
"This is not a client/vendor relationship in the traditional sense, in which the partners want to be equal and yet the client calls all the shots," said Sam Kaddah, president and CEO of Liquid Logics LLC. "It is a proactive partnership whose aim is to provide our customer base a friendly, cooperative, and truly web-based LOS application including docs, mobile experience and compliance."
DSI's comprehensive compliance and pioneering in the industry's eDelivery/eSign tools were primary factors in Liquid Logics' decision to pursue the partnership, Mr. Kaddah said. "There are other doc providers but no one else has the 'proactive compliance checks' that DSI offers. We can launch compliance checks whenever material changes in the information hit the LOS system. It returns feature-rich findings that people in the system can use to make changes on the fly."
Currently available functionality includes production, e-delivery and eSignature of the borrower's origination documents, including initial disclosure and redisclosure document packages. Additional functionality will be rolled out to users over the next few months. Ribultan says he expects a complete integration by year's end.
"Our lender clients expect to have access to best software and services available anywhere in the industry," said Derrick Logan, Senior Vice President of Strategic Development for Loan Logics. "This integration with DocMagic delivers that. We're proud to be working with DocMagic."
About Liquid Logics LLC
Liquid Logics, Kansas City, was founded in 2004 and is the first Cloud-based Mortgage Loan Origination System built around the consumer process and required information flow instead of the outdated industry workflow. Built to ensure high levels of customer satisfaction, Liquid Logics includes support for the entire loan production cycle, including a Cloud-based consumer portal, a trusted automated underwriting engine, full support for appraisal management -- with or without an AMC -- and a built-in, fully configured analytics dashboard. Liquid Logics is the only LOS that manages complex communications between the borrower, the lender and other third parties while maintaining a detailed audit trail of both communications and changes to the loan for compliance purposes. The LOS manages all communications between the parties, regardless of their platform, including mobile device, PC or tablet. For more information, please visit http://liquidlogics.com or contact the firm directly at 816-295-6240.
About DocMagic
DocMagic, Inc. is a leading provider of fully-compliant loan document preparation, compliance, eSign and eDelivery solutions for the mortgage industry. Founded in 1988 and headquartered in Torrance, Calif., DocMagic, Inc. develops software, mobile apps, processes and web-based systems for the production and delivery of compliant loan document packages. DocMagic guarantees and warrants that all agency forms are up to date and in compliance with GSE requirements. The company's compliance experts and in-house legal staff constantly monitor legal and regulatory changes at both the federal and state levels to ensure accuracy. For more information on DocMagic, visit www.docmagic.com.
One vendor. One platform. A complete solution.
Schedule a consultation or quick demo. Let us show you how we can help digitally transform your mortgage process.
Topics from this blog: Partnerships integration Loan Origination Loan Origination System (LOS)
Back