DocMagic Blog
DocMagic Acquires eSignSystems
10/16/2014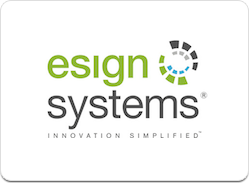 Powerful addition makes DocMagic the undisputed leader in eSign & eVaulting Solutions
TORRANCE, Calif.—October 16, 2014—DocMagic, Inc., the premier provider of fully-compliant loan document preparation, compliance, eSign and eDelivery solutions, announced today it has acquired award winning industry innovator and leader in electronic software solutions, eSignSystems, from WAVE Systems Corp. (NASDAQ: WAVX). As part of the acquisition, DocMagic will bring on the entire management team of eSignSystems, including co-founder and EVP of Sales and Marketing, Kelly Purcell, and SVP of Technology Solutions, Jonathan Kearns.
"The acquisition of eSignSystems by DocMagic is a marriage of extraordinary talented and visionary people with incredible SaaS and on-premise products and services," said Dominic Iannitti, President and CEO of DocMagic. "The management team at eSignSystems has done an exceptional job bringing innovative solutions to the forefront of e-mortgage adoption, and their contribution to the eMortgage revolution cannot be overstated. By combining the best of eSignSystems on-premise software with DocMagic's SaaS solutions, eSignature patent, compliance and enterprise infrastructure, there is no question that this acquisition was meant to be. Simply put, we are just better together."
The acquisition adds to DocMagic's already robust suite of electronic products and services. eSignSystems products include, SmartSAFE® a solution enabling the eDelivery, eSigning, and life-cycle management of the electronic record, including short and long term retention of electronic files (eVault), SmartIDENTITY® a solution for validating signers in real-time, SmartFORMS®, a solution for generating proper and personalized forms, and SmartCLOSE®, a solution for simplifying the MERS® eRegistry Integration.
"We are elated about the DocMagic acquisition of eSignSystems," said Kelly Purcell, EVP of Sales and Marketing for eSignSystems. "Combining the in-depth industry experience of both DocMagic and eSignSystems gives our collective customers and partners business model choices with enterprise level expertise in both on-premise and SaaS electronic solutions. During the acquisition process, we experienced firsthand the commitment from DocMagic ensuring the success and prosperity of our customers through its continued support of innovative 'first-to-market' robust technologies, and excellence in customer service."
"The acquisition for DocMagic has spectacular timing for electronic mortgage adoption," said Tim Anderson, Director of eServices for DocMagic. "Not only are DocMagic products and services the most easily integrated tools available in the market, the comprehensiveness of the combined eSignSystems and DocMagic offerings is now officially off the charts. That makes DocMagic the e-Powerhouse."
About eSignSystems
eSignSystems, formally a division of Wave Systems Corp. (NASDAQ: WAVX) is a leading provider of lifecycle management of electronically signed, legally binding documents, contracts and digital transactions. SmartSAFE enables companies to manage business processes and trans-actions entirely online. Organizations can address certain regulatory compliance issues, improve productivity and efficiency in processing transactions, and achieve significant cost savings through the elimination of document transportation costs, processing and storage. For more information, visit www.esignsystems.com.
About DocMagic
DocMagic, Inc. is a leading provider of fully-compliant loan document preparation, compliance, eSign and eDelivery solutions for the mortgage industry. Founded in 1988 and headquartered in Torrance, Calif., DocMagic, Inc. develops software, mobile apps, processes and web-based systems for the production and delivery of compliant loan document packages. DocMagic guarantees and warrants that all agency forms are up to date and in compliance with GSE requirements. The company's compliance experts and in-house legal staff constantly monitor legal and regulatory changes at both the federal and state levels to ensure accuracy. For more information on DocMagic, visit www.docmagic.com.
One vendor. One platform. A complete solution.
Schedule a consultation or quick demo. Let us show you how we can help digitally transform your mortgage process.
Topics from this blog: DocMagic eSign eSign eMortgage
Back