DocMagic senior account executive Leah Sommerville, 33, was awarded a coveted spot on National Mortgage Professional (NMP) magazine's annual Top 40 Under 40 Most Influential Mortgage Professionals list.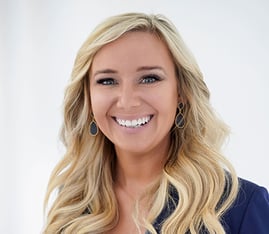 The list, now in its second year, seeks to highlight the "up-and-comers across the mortgage world who are actively scanning the profession with fresh eyes, and making it better, with enthusiasm," according to the magazine.
The honorees, who are voted on by their peers, range from executives at large institutions such as Fannie Mae to presidents and CEOs running their own firms. They span all sectors within the mortgage industry, including compliance, loan origination, FinTech, and more.
Asked by NMP what she considers her greatest success in 2020—a year that presented multiple unique challenges, including the pandemic, social distancing requirements, stay-at-home orders, a refi boom, and new compliance rules—Sommerville said, "I'm proud to have been involved in helping many organizations make the shift to hybrid and completely digital eClosings."
During the pandemic, she has been especially focused on helping lenders who are rushing to implement DocMagic's 100% paperless Total eClose solution.
Over her career Sommerville has helped drive the digital processes for over 400 organizations; increased eClosing adoption among relevant organizations by over 300%; and helped execute more than 8,000 eClosings so far. A member of DocMagic's dedicated eClosing team, her specialty is guiding lenders through the transition from paper to electronic mortgages, so much so that she's become a subject matter expert on it.
"I was fortunate to begin my journey in the mortgage industry during a time when lenders began recognizing the importance of modernizing outdated paper processes with technology to increase efficiency and improve the borrower experience," Sommerville told NMP. "My experience as a digital transformation coach has been especially exciting because I truly enjoy helping organizations reap the benefits of these technological advances."
Related Content: