DocMagic Blog
Why lenders still need print fulfillment—even if they're going digital
08/25/2020
It may seem like the need for print fulfillment services is counterintuitive to digitizing the mortgage process, but the two things aren't mutually exclusive.
There are several reasons why lenders going digital may still need some loan documents, such as initial disclosures, to be physically printed out and mailed to customers.
Compliance is key
Chief among them is compliance. The many regulations that guide mortgage lending—especially TRID (the TILA-RESPA Integrated Disclosure rule)—include specific compliance requirements to protect the customer.
For example, while the federal ESIGN Act paved the way for the legality of electronic signatures, the Uniform Electronic Transactions Act (UETA) allows customers to opt out of the electronic signing process and request paper documents. Even in an eClosing, borrowers may still prefer to have some or all of their documents papered out.
Don't rush to implement RON: Take these 3 steps instead
Even if borrowers don't specifically request paper documents, they may simply neglect to respond to or accept electronic documents within the legally required time frame. And even though in such a situation it would be the borrower who dropped the ball, it is the lender who is on the hook for ensuring compliance.
TRID is a major factor
This is especially important when it concerns TRID. Print fulfillment is often used to provide the initial package, as lenders must provide the Loan Estimate (LE) to consumers within three business days of receiving the loan application.
If any compliance regulation is unmet then penalties for the lender can be costly; the smallest fine for a TRID violation is at least $5,000 per day for a single violation and can reach as high as $1 million per day for knowingly committing violations.
What DocMagic can provide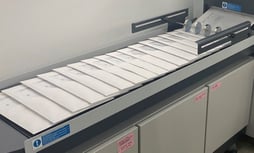 That's why DocMagic's print fulfillment services are so important. Our print fulfillment supercenter in Torrance, California is a fully automated, centralized, and touch-free system. When the lender orders documents, a printer automatically feeds the paper documents directly into a system that scans and reads the bar codes to ensure that no documents are missing. The docs are then inserted into envelopes, sealed, and stamped—all without human intervention.
Even if the lender doesn't order documents, they're protected with DocMagic. If the borrower does not electronically consent to view initial disclosures, our system automatically prints fulfillment to satisfy TRID requirements.
Our system logs and stores all actions, and lenders can review them and produce detailed information about any document's activity at any time; we can provide a detailed audit trail for proof of compliance. The result is a drastic reduction in the risk of errors, omissions, compromised data, and compliance-related fines.
Related Content:
One vendor. One platform. A complete solution.
Schedule a consultation or quick demo. Let us show you how we can help digitally transform your mortgage process.
Topics from this blog: Compliance TRID
Back